What to Look for in Outdoor String Lights
Bulb Type
String lights come with a wide variety of bulb types and shapes, but LED bulbs are the most common. These bulbs offer the longest lifespan and best energy savings of any bulb type. However, you'll still need to decide if you want a bright, vintage light from an Edison-style light bulb or the softer glow of string lights with a globe bulb. For extra durability, some string light bulbs are made of plastic, while others are made of glass and may require a little more cautious care.
Power Source
To make your outdoor lights twinkle, you'll need a readily accessible power source that's compatible with the type of string lights you buy. Many string lights on the market are designed to be plugged into an electrical outlet; the most durable ones also feature protected sockets to keep out moisture. But if you don't have an outlet available for your outdoor lighting, look for USB-powered or solar string lights.
Lighting Effects
You don't have to settle for a steady glow when it comes to outdoor lighting. Many string lights can be used with a dimmer, or they include a remote control that allows you to control various lighting effects. Some strings lights are capable of strobing or flashing effects, and others can twinkle or fade in and out.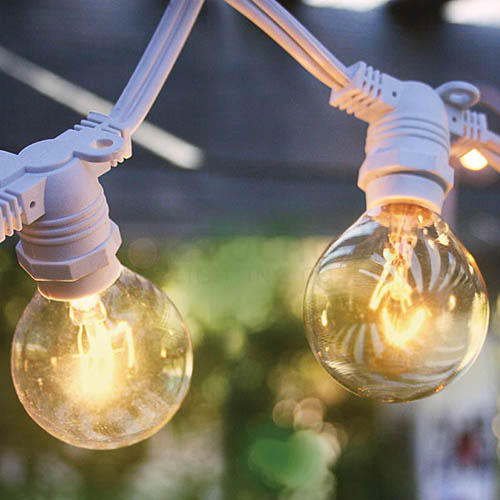 FAQ
There are many different places where you can display outdoor string lights, but you'll want to take into account their length, safety rating, and power source to find the best location. Be sure to check whether your lights are weather-proof before hanging them—some lights can withstand rain, snow, and more, while others should be kept out of direct exposure to the weather. You'll also want to make sure your lights will be able to reach an outlet if needed.
With those logistics out of the way, you might want to hang outdoor string lights between trees or posts in your yard. Other popular options include wrapping lights around deck railings or tree branches or using them to decorate the beams of a deck or pergola.
What's the best way to hang and secure outdoor string lights?
When putting up your string lights, there are several ways to anchor them. Many people like to use cup hooks to hold up string lights, as it's easy to place the wire inside the loop yet it still holds the strand in place. However, you can also use a staple gun to anchor string lights into place—just be extra careful not to pierce the wire. No matter how you're hanging your lights, it's best to remove glass bulbs during installation, as there's always a chance they'll be bumped or even dropped.
How can you determine how long of a set you need?
It's best to figure out how long your string lights should be before you purchase them—after all, it's frustrating to realize your lights aren't long enough when you're midway through installation. You can avoid this by taking rough measurements of the location where you want your lights. For instance, if your patio is 20 feet wide and you want the lights to zigzag across it three times, you'll need at least 60 feet of light. In general, it's always best to give yourself an additional 5-foot buffer if possible.
How often do bulbs generally need replacing?
The lifespan of your outdoor lights will depend on how often you use them and whether they're properly maintained. In general, high-end LED string lights will last for around six to seven seasons—or two to three years if you use them year-round. Lower-quality products and incandescent bulbs will need to be replaced more frequently.
Is it safe to leave outdoor string lights on for days or weeks at a time?
Unfortunately, it's not a good idea to leave any lights on around the clock for the simple reason that all light bulbs, even LEDs, can heat up with extended use. This can become a fire hazard if they're located near any flammable object. Instead, it's best to turn off your custom string lights when they're not in use or at least overnight. If you don't want to do it by hand, a light timer or smart plug can do it automatically.
If you are interested in sending in a Guest Blogger Submission,welcome to write for us!